tracer.pl
This script processes the output of Oracle 10046-event trace files, and outputs a wait-event resource profile akin to the Hotsos profiler, except mine isn't nearly so slick and has a bit of work to do on it. My hope would be that with help and input from the community it could become a powerful Open-Source tool for Oracle tuning. If you find you can make the script better, I'd be very appreciative of feedback, patches, etc.
If the script barfs on you, send me the output of the script (my email address is in the script header) and a copy of the tracefile it didn't work on, if you can. That will make fixing any problems so much easier.
Currently it works ok for simple trace files without a lot of recursive db calls. That would be the next major step in its development, to be able to handle such recursive calls accurately.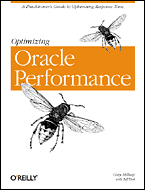 Don't know what 10046-event traces are? Get your hands around a copy of Cary Millsap and Jeff Holt's Optimizing Oracle Performance. My review of the same is here. It's a challenging read, but you'll be so much better off for having read it.